Super Chair is a stackable monobloc chair, made of 100% recycled and recyclable polypropylene. Designed by Nicholas Baker for Damiano Latini with art direction by Antonio Lanzillo & Partners, the chair is distinguished by its flowing form bound by its rectangular outline.
The chair is designed for indoor and outdoor environments and it has been tested and certified as weather resistant. Super Chair is also intended for the retail and contract market. It fits well in living and dining rooms as well as in board rooms, restaurants, and events venues. Super Chair is available in 7 colors: white, black, gray, yellow, amaranth, blue and leather and upon specific requests it is possible a color customization.
A monobloc,
100% recycled chair

with organic shape
SUPER CHAIR INNOVATIVE DESIGN
Nicholas Baker's original inspiration came from the idea to create a chair that could be recognized by its silhouette. There are many cantilever or "S" style chairs, but the addition of a diagonal line through the profile of the chair adds a unique dynamism. Also, the front view of the chair becomes a monolithic surface which contrasts the side view giving the chair a unique and recognizable design.

Baker used virtual reality technology to design the chair by pushing and pulling the form from a single plane. Thanks to VR the designer was able to model the chair efficiently and accurately, he started from a singular plane, and easily pushed and pulled the surfaces till obtaining an organic shape.
Super Chair is entirely made in Italy by an Italian company specialized in the design and construction of molds and production of thermoplastic products.
The chair is a monobloc produced with injection molding technology with a Silky finish to add a sophisticated and matte aspect and a soft touch to the surface. It is has a thickness of 6 mm for a weight of only 5.9 kg.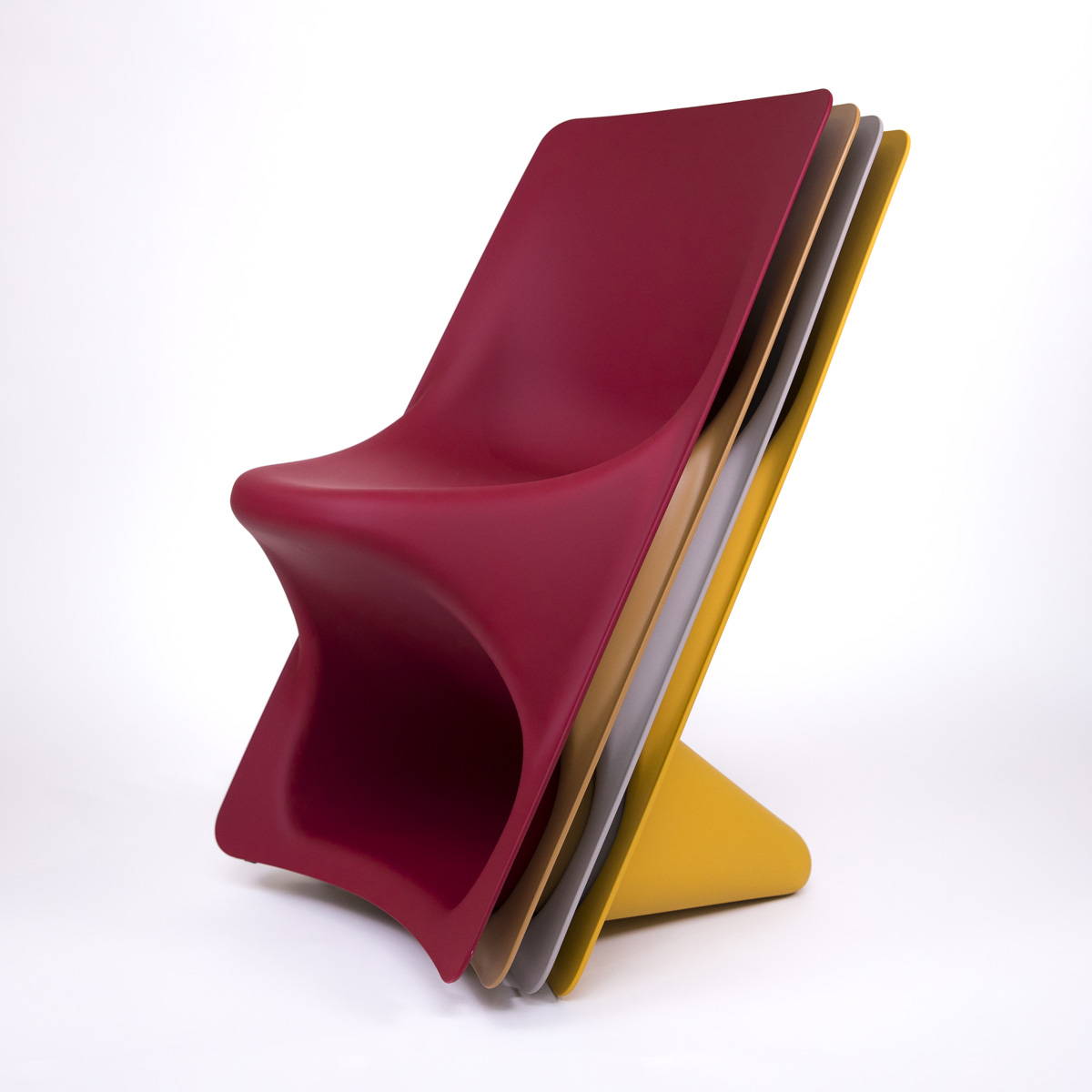 SUPER CHAIR A SUSTAINABLE PRODUCT
Super Chair is made of 100% recycled and recyclable polypropylene using the patented RE-LIFE® technology to obtain raw material from the recycling of offcuts and industrial waste without use of fossil resources.This technology makes it possible to create environmentally friendly products that not only do not use new fossil resources but also clean up the system from scraps and industrial waste, reprocessing them into raw materials.
The material being a filled technopolymer is 100% recyclable, resistant and long-lasting, reducing the impact of the product's life cycle on the ecosystem. The longest is the product life cycle the lesser are the emissions since it will be re-produced and reduced the number of times.
Super Chair is stackable this means that it is possible to ship more units in a single box reducing required packaging and transportation emissions.